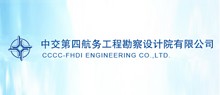 CCCC-FHDI Engineering Co., Ltd.
Council Members
Founded in 1964, CCCC-FHDI Engineering Co., Ltd. (hereinafter referred to as FHDI), which was originally called the Fourth Habour Engineering Investigation and Design Institute of the Ministry of Transport, is a wholly-owned subsidiary of China Communications Construction Company Limited. Over the past five decades since its founding, FHDI has conducted its business in more than 50 countries and regions all over the world.
FHDI is renowned as an integrated large-scale investigation and design company both at home and abroad. In detail, it has been awarded the grade-A comprehensive qualification for engineering design and the certificate of grade-A comprehensive qualification for engineering investigation approved by the Ministry of Housing and Urban-Rural Development. Moreover, it has national grade-A qualification certificates of engineering supervision, engineering consultation, construction cost consultation and surveying & mapping as well as pressure piping design license. It is qualified in overseas projects with the Certificate of Overseas Project Contracting awarded by the Ministry of Commerce and grade-A qualification certificates of port and waterway engineering contracting. Besides, it boasts the service capability integrating consultation, investigation, design and construction. Its main businesses include water transportation, water conservancy, building, road & bridge, municipal utility, rail transit, chemical industry and civil airport. Its business scope covers planning, investment, consultation, investigation & design, construction supervision and general contracting for engineering and construction, etc..
Since its foundation, FHDI has completed more than 2000 projects both at home and abroad, including large-scale engineering investigation & design, engineering supervision, project management and general contracting. Meanwhile, it has carried out some internationally advanced investigation & design projects worldwide, including 300,000 DWT oil terminal, 250,000 DWT ore terminal, 150,000 DWT container terminal, large-scale LPG and LNG terminal storage and transport depot, expressway and more than 200 highway and bridge projects. Many projects have been given Zhan Tianyou Award, National Gold Award and other related awards. It has established partnership with dozens of countries, such as Pakistan, Vietnam, Sudan and Angola and completed some influential investigation & design projects worldwide, such as Gwadar Deepwater Port in Pakistan and Luanda Oil Terminal in Angola.
Now FHDI has 851 employees, including two design masters, 14 national experts enjoying special government allowances, 307 professorate and senior engineers and 262 registered engineers. Professionals and technicians have accounted for 89% of all employees. In this view, FHDI has huge strengths of technological R&D, application and management.
Furthermore, FHDI has formulated a complete set of enterprise management system and standard and has acquired certificates of the three-in-one (quality, environment and occupational health & safety management) system certifications. It possesses advanced investigation & design equipment and software and has compiled and taken part in developing over 30 codes in the industry and independently developed lots of investigation & design software packet. It also enjoys more than 40 investigation & design patents. Always ranking top in the industry according to comprehensive strength, FHDI took the 23rd place in terms of project management income of the national investigation & design industry and took the 29th place among top 60 Chinese contractors and engineering design enterprises by the US Engineering News-Record in 2012. It was honored as the Leader of Chinese Building Industry by Construction Times in 2013 and renowned in the industry as a leading enterprise.