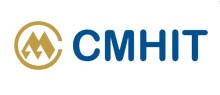 CHINA MERCHANTS HOLDINGS (INTERNATIONAL) INFORMATION TECHNOLOGY CO.,LTD
Supervisory Board
Legal representative: Deng Weidong
Address: A401 Technology Building II, 1057 Nanhai Road, Shekou Nanshan District, Shenzhen, CHINA.
Tel: 0086-755-26856200
E-Mail: ahliu@cmhit.com
CMHIT is an information technology solution provider specialized in port, terminal and logistics industry as well as improvement of logistics customs clearance.
We provide the total IT solution to marine logistics-related enterprises like port, bonded logistics park and bonded port, shipping enterprises, customs, etc. We develop the modern management system for container terminal, bulk cargo terminal, container yard and container freight station, our software and service are delivering high-quality performance and maximum added-value to nearly 300 customers worldwide.
Established in 2001
Currently has 140 employees
90% high-tech talents
Qualifications:
CMMI 3
ISO27001
ISO9001